This has to be the greatest debate facing our generation today – who do we love more (on the Internet)? We all are well aware that animals, not only cats and dogs, hold a warm fuzzy place in our hearts, especially when it comes to videos, memes, GIFs, and more.
You might think that cats rule the Internet. There are the hero cats – such as those that save little boys biking in their neighborhoods from pitbull attacks – and cats that are pure purrodigies such as those that know how to stroke the keys effortlessly on the piano.  
So are meowsers truly the mascot of the Internet? Or are bowsers taking over? According to the Chinese zodiac, 2018 is the Year of the Dog. Perhaps then, by nature of the alignment of the stars, dogs are more popular than cats. We dug deeper into some web analytics to find out who's the Internet's favorite animal:
  Top Most Followed Instagram Pets in 2017
According to Instagram, the majority of pets (6 out of 10) followed on Instagram were dogs. Ok, so that's probably not enough to justify that dogs are more popular than cats online. Let's look at some other statistics.
2.   Top Instagram Posts
When it comes to number of total posts, there were 31M more dogs posts than cat posts in 2017 on Instagram. Although dogs had more posts, there were over 323M posts about dogs and cats combined. People sure do like to share the love for these critters and they're winning on Instagram content, but it's still hard to conclude that dogs are truly more loved than cats online.
3.   Search Trends
In 2012, we experienced a turning point in video searches. That is, globally, people became more interested in searching for dogs videos than cat videos. The graph below shows that cats have been on a somewhat steady decline since 2008. People desire more dog video content than cats.
Source: Google Trends 2018
Then another crazy thing happened. In 2014, the Google search term "cute dogs" was searched more for the first time than "funny cats" in the United States and globally in 2015. "Funny cats" has continued a steady decline ever since then while "cute dogs" have remained relatively stable. Does this mean that we yearn for playful Fluffy more than Grumpy Cat? Or could it be that the Sochi Olympics' sweetheart Gus Kenworthy's viral photos of stray puppies created a rise in online puppy love?
Source: Google Trends 2018
    

YouTube Content
While dogs are searched for much more than cats, there are less doggy videos actually uploaded.
   Subreddits
And when it comes to one of the most popular subreddits for cats, dogs, babies, and more things that make you smile, /r/aww is a hotspot for "cute and cuddly pictures" with its massive following of 18.5M subscribers and growing. By sorting top posts on the subreddit by "past month", there is a greater number of dog posts than cat posts. When it comes to indexing all subreddits though, there are more cat subreddits. This could mean that cat lovers are branching off to create their own subreddits and posting less on /r/aww subreddit.  
 Kitty vs. Doggy GIFs
We love GIFs. When it comes to our GIF library, we have more cat GIFs to choose from than dog GIFs, according to GIPHY.com. As of today, there are 81K cat GIFs while only 77K dog GIFs. When it comes to GIFs with both dogs and cats, there are almost 70K. Clearly we're attracted to the age-old entertainment of who's the real Iron Man: cat v. dog.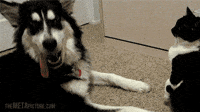 "Cats and the Internet" is its own Wikipedia page.
Finally, the fact that there is a specific webpage for "Cats and the Internet" suggests the magnitude cats have on online culture. This type of page doesn't exist for doggies on Wikipedia.
The Verdict: When it comes to searches and content, the winner is dogs. The reason for this may be that in the state of the world as it is today, we desire a sense of belonging and loyalty, something that dogs offer unconditionally. When it comes to viralness, cats take the cake. Maybe it's the law of diminishing returns. As humans, we can only be interested in something for a specific period of time and then we redirect our interest somewhere else. Although there isn't as much dog content online, the interest is there so get out there and start posting some cute pupperonis!